School workshops

A qualified Teacher with over 16 years experience I regularly carry out creative workshops with children of all ages to help develop artistic expression.
The workshops explore the history of collage as well as inspiring children of all ability to experiment with different materials, textures and techniques.
"the collage has brought her alive- I have never seen her this engaged and so proud in what she is producing"
Teacher of Year 4
"Just to say you were a real hit today with everyone and we had a great time with you"
School's Art Co-ordinator
"I went to look at the work in years 3 and 4 at the end of the day and it was really good and I am thrilled with the effort and the expertise of the year 5 children with the owls. We worked until nearly 3.15 and then cleared away and had a show of what we had done so far. It was lovely to see how very pleased the children were with what they had done. Some are very inventive and all of the children had made an effort"
Topics can be linked to school topics or children's interests. Costs are competitive and flexible.
---
A fantastic collage project with Years 3 and 4 at Ridgefield School below- each child created a collage leaf which I put together into a large tree to go on the wall in the school library. The project was sponsored by the Friends of Ridgefield.
More from the talented children at Ridgefield Primary School.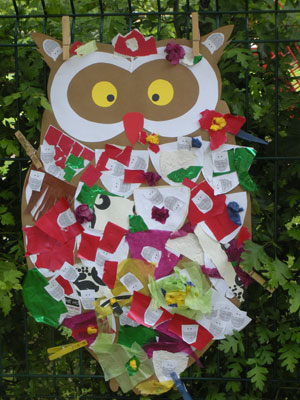 Collage Owl by the children at Hommerton Children's Centre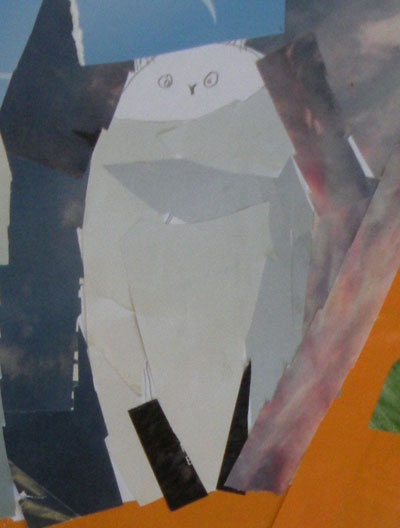 A project below with the reception class at Morley Memorial Primary School,exploring 'change'. The installation was on display as part of an exhibition at the school.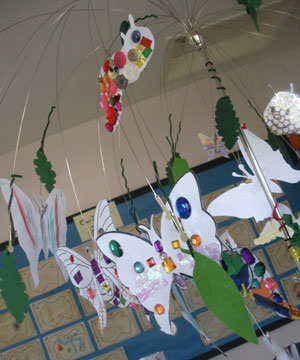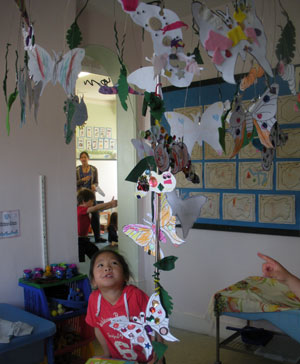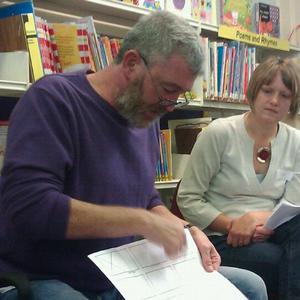 A fantastic workshop at Rock Road Library (That's me with Adrian Reynolds who illustates the wonderful 'Harry and the Dinosaurs books)
Creativity for the elderly

I run a bi-weekly art worshop for the elderly, which I love. I am constantly rewarded by the efforts and enthusiasm of my group, many of whom suffer from dimentia. If you would be interested in running a workshop in your residential home please do contact me.
"I haven't done anything like this in over 60 years, at first I was nervous of making a fool of myself, but by the end we were all fighting over the glue!" Joyce
emmabennettcollage@email.com