St Johns Passage, Cambridge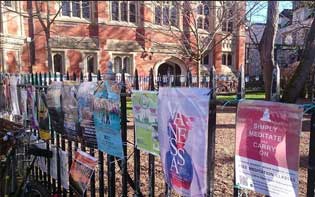 Lynn Fraser
My good friend Lynn took this photograph of St Johns Passage in Cambridge (Where the arts market takes place) and challenged me to re-create it in collage. I loved the mix between the buildings and the colourful posters. Anyone who knows Cambridge will see these posters on all university railings.
Every single element of this picture was created by hand-cut collage and using only papers recycled from discarded magazines.
Reproduction print (signed and mounted)
Professionally printed on high quality photographic paper with a high quality white mount.
Size 30cm x 21cm £17
packing and delivery
only £2.50 for print- free for Original