cards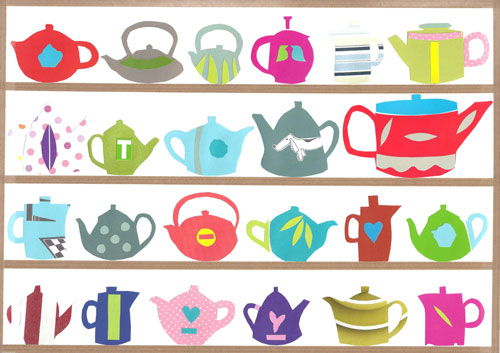 the detail

(if you like the design but have your own ideas for a colour scheme then please ask)
---
if you don't have access to Paypay please e-mail orders to emmabennettcollage@email.com
---
the teapots keep coming
The most popular art bought on the web site - this hand cut collage picture is of lots of teapots on shelves.
this picture is created with individual features hand-cut using paper recycled from a range of sources such as old magazines and flyers.
original mounted art work
(Made to Order, so colours may vary)
Size 30cm x 21cm (mounted size 40cm x 30cm)
£45
original reproduction (limited edition)
Artist signed, mounted and cello wrapped.
Size 30cm x 21cm £17
packing and delivery
reproduction £2.50
original art work £3.00
estimated delivery: reproduction 4-5 working days
Original art work
3-4 days if in stock, if made to order 7-10 working days